On November 17, 2017, our company's work report was held in the third floor conference room of the Wuqing Automobile Industrial Park, and reported the relevant work to the leaders of the Wuqing district government. The leaders of the districts attending this briefing include Dai Dongqiang, deputy secretary of the district party committee, Liu Donghai, deputy mayor, Qu Haifu, deputy mayor, and other heads of other departments. The leaders who were invited to attend this meeting were Fu Yi, director and deputy director Wu Liqian of Tianjin Ji'nan office, the business representatives were general manager of Kunlun capital Tianjin Corporation, Sun Jiangzhi. Our main leaders include Professor Guo Zhimeng, Chen Yong, chairman of the board, President Lu and Xu.
At the meeting, general Lu made a written report on behalf of the company. Dai district chief showed a strong interest in our company's products and technology, and asked questions from time to time, from a professional point of view, Professor Guo explained the principles and advantages of the titanium alloy technology in powder metallurgy, and received a warm response from the leaders of the conference. Finally, Dai district chief made a summary statement, the government is required to change its concept, create a new industrial system based on a new paradigm, put forward the idea of building a world-class industrial cluster around the main business of our company. the main contents include: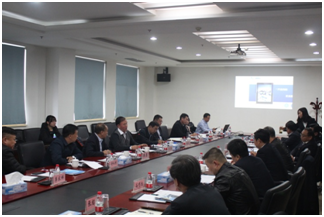 1. Establishing a new type of metal materials Innovation Center(Branch Center). The first link, based on titanium alloy materials, led by Professor Guo from the Powder Metallurgy Institute of Beijing University of Science and Technology and a joint institute of steel research institute, northwest academy and iron academy inspection center, established a new innovation center for metal materials.
2. Building a pilot test platform. Building a small production line, taking the new research and development technology into this platform, to make samples.
3. Creating and planning a new industrial cluster. Taking Tech-long company as the core, planning about 500 acres of new industrial parks, making the enterprises bigger and stronger, creating new industrial clusters, and transforming the original industrial park enterprises to serve titanium alloy industry.
4. Creating a marketing platform. Creating an e-commerce platform and focusing on small and medium-sized enterprises.
5. Createing a financing platform, making all the preparations listed for the company with industry funds as the basis, the capital as a link in the industrial cluster.